June 13, 2017, 1:13 a.m.
»

Comments
Meeting the wizard!
by: Boris
Christchurch, New Zealand
My last full day in New Zealand, and what a day it was! I left the house a little late, but my timing was just perfect because as I finished my lunch a bearded man in black wizard robes, a pointy hat, and holding a staff walked by and casually sat down at a table in the same café. Not wanting to be rude I asked him if it would be ok for me to take a photograph. He not only consented, but also invited me to sit down for a chat. It turns out that I had met the Wizard of New Zealand, and for the next fort five minutes or so he discussed his philosophy on life, the universe, and everything. The conversation was fun, entertaining, and at times very strange. He very much gave off the impression of a kindly, old wizard with an understanding of the world that far exceeded my own … but then being a scientist of this world it was also very strange to hear that time is not linear, that monarchy is the ideal form of government, that the sun is smaller than the earth, that everything can be true and is simply a matter of perception, and so forth. I certainly enjoyed myself. As I made my excuses and went off to my intended destination for the day, the Canterbury museum, he gave me his card and offered to email me his essays. I am considering the offer.

Next, I finally went to the Canterbury museum and donated my remaining NZ coins. The museum encompasses both natural history and archaeology, focusing on New Zealand culture and history, as well as its plant and animal life. I enjoyed walking through, but a single visit is never enough to get the full experience. That said, I especially appreciated two exhibits – one celebrating the achievements of the Maori women of the south island; the other called "Perseverance," focusing on Japanese tattooing in the modern world.

Walking out I had hoped to explore just a little more, but the weather finally caught up to me. It began to rain, and then it began to hail, perhaps the largest hail I've ever come across. I walked very quickly back home, being hit by rain and tiny, hard pellets the entire way, but finally I made it back.

New Zealand, I've had a wonderful time, but looks like the hour has come for me to continue my journey. Hei konā!


NEW ZEALAND (SOUTH)
NEW ZEALAND (NORTH)
HAWAII


I'm attempting to post a few photos to this blog directly … let's see if it works.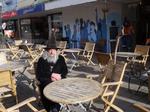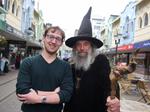 Leave a Reply
or send an email?
Nov. 14, 2017, 8:43 p.m.
Name:
SGR
Message:
I like what I see. This is a special place that looks like and Ireland and like and Iceland.
Here are many beautiful photos, including areal shots. Boris, you have a talent for travel photography. Please, do not stop